Insights / Press Releases
Deltek Selects Logi-Serve to Help Identify Top B2B Sales Representatives
Oct 20, 2017
FARMINGTON HILLS, MICH—OCT. 17, 2017
Logi-Serve recently announced that Deltek, the leading global provider of enterprise software and information solutions, has selected its assessment tool to help identify top talent for B2B sales roles in North America.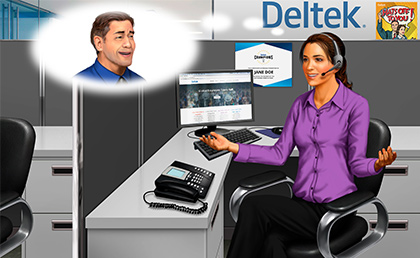 The Logi-Serve sales-and-service assessment tool helps improve sales results and productivity by providing hiring managers with critical insight about a candidate's potential, enabling them to be more confident about their hiring decisions.
Deltek conducted extensive due diligence prior to selecting Logi-Serve. The selection process spanned months and included an extensive market review followed by ongoing discovery. Logi-Serve was ultimately selected based on its unique science-based approach, the strength of its technology, its superior user experience, and its business impact.
"The increasingly sophisticated buying process and the volume of product and company information available to buyers makes our ability to hire outstanding sales professionals critical to our success," said Mary Beth Cockerham, Vice President of Sales, at Deltek. "One of our corporate values is 'Results-Driven', so we are deeply committed to improving our business performance. We believe Logi-Serve brings scientific rigor, innovation and flexibility to help ensure we identify top sales talent who can perform and live up to our values."
Eric Krohner, founder and CEO of Logi-Serve, said: "Sales and service organizations are increasingly recognizing Logi-Serve's ability not just to predict job fit and success, but to provide positive financial impact and align with cultural and organizational values. Logi-Serve's continuing momentum is based on our ability to consistently deliver on our promise to predict candidate performance and enhance our clients' bottom line."
About Deltek
Deltek is the leading global provider of enterprise software and solutions for government contractors, professional services firms and other project-based businesses. For decades, we have delivered actionable insight that empowers our customers to unlock their business potential. 22,000 organizations and millions of users in over 80 countries around the world rely on Deltek to research and identify opportunities, win new business, recruit and develop talent, optimize resources, streamline operations and deliver more profitable projects. www.deltek.com
About Logi-Serve
Logi-Serve is rapidly distinguishing itself as the market's leading assessment innovator for companies seeking to predict customer service ability, enhance customer experiences, increase sales and build a culture of sales and service excellence. Through patent pending science and tools that pose questions based on story-boarded scenarios, its use of advanced response gathering technology and a validated competency framework, Logi-Serve offers the market's most direct link to predicting and shaping business outcomes.
---
Enterprise assessment suite
Smarter assessments that predict performance and improve outcomes
Logi-Serve's employee assessment platform provides a comprehensive suite of tools that identity the best candidates, maximize employee performance, and improve business outcomes.
Learn more
Job previews that target candidates and improve your recruitment efficiency
Logi-Serve's Realistic Job Preview enriches standard job postings with an interactive preview of open positions. It informs job seekers and collects actionable data for employers to refine their recruitment strategies.
Learn more