Insights / Press Releases
Capitol Auto Group Selects Logi-Serve Assessment to Help Identify Top Service and Sales Talent
Jan 22, 2018
FARMINGTON HILLS, MICH—Jan 19, 2018
Capitol Auto Group is a multi-brand family of auto dealerships that has been servicing the Salem, Oregon area for over 90 years. They have invested in Logi-Serve to help improve their business performance by more accurately predicting which job candidates have the innate soft skills to provide exemplary customer service and sales excellence.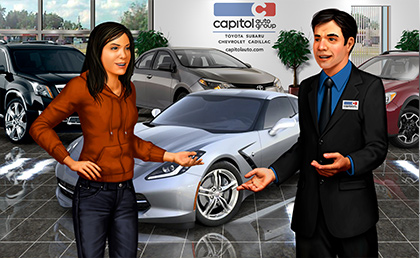 Capitol Auto Group, representing Toyota, Chevrolet, Cadillac and Subaru, chose Logi-Serve after months of research, based on its track record of success and its application of best-in-class science for hiring within the retail auto industry.
Logi-Serve's assessment measures nine sales- and service-related competencies to enable it to predict sales and service excellence.
"The retail auto industry has undergone many changes in recent years, however the one constant and key differentiator, is the interaction and experiences the customer has with our staff at every touch point. We need to ensure our customers are served by exceptional talent who can create memorable experiences with their car buying and future service decisions," said Mandy Romero, Director of Human Resources, at Capitol Auto Group. "Logi-Serve brings scientific rigor, innovation and flexibility to ensure we identify outstanding employees who live up to our purpose and values."
Eric Krohner, founder and CEO of Logi-Serve, said: "Sales and service organizations increasingly recognize Logi-Serve's ability to go beyond predicting job fit, to identify those who provide financial impact and align with cultural values. We look forward to working with Capitol Auto Group to help them achieve and exceed their expectations."
About Capitol Auto Group
Capitol Auto Group, is an award winning family owned multi-brand automobile dealership group in the Salem, Oregon areas with over 3 generations of history for providing genuine customer friendly sales and service. While representing leading brands such as Toyota, Chevrolet, Cadillac and Subaru, it has never lost sight of its role and participation in the community ensuring the Salem area is a great place to live, work and play, and the first choice for buying a new car, truck or SUV. For more information on Capital Auto Group visit their website. www.capitolauto.com
About Logi-Serve
Logi-Serve is rapidly distinguishing itself as the market's leading assessment innovator for companies seeking to predict customer service ability, enhance customer experiences, increase sales and build a culture of sales and service excellence. Logi-Serve offers state-of-the-art science and technology that has been tailored specifically for the automotive retailer to improve sales, service, customer experience interactions and build their dealership Brand. Through innovations in science and assessment technology Logi-Serve offers the market's most direct link to predicting and shaping business outcomes.
---
Enterprise assessment suite
Smarter assessments that predict performance and improve outcomes
Logi-Serve's employee assessment platform provides a comprehensive suite of tools that identity the best candidates, maximize employee performance, and improve business outcomes.
Learn more
Job previews that target candidates and improve your recruitment efficiency
Logi-Serve's Realistic Job Preview enriches standard job postings with an interactive preview of open positions. It informs job seekers and collects actionable data for employers to refine their recruitment strategies.
Learn more